Visit one of our machines in person anytime!
Maison de la Culture/ Bibliothèque du Plateau Mont-Royal, 465, avenue du Mont-Royal Est (across from Métro Mont-Royal)-- Temporarily inaccessible!
Notre Dame des Quilles, 32 Beaubien E. (corner St-Laurent) -- Temporarily inaccessible!
Casa del Popolo, 4873 St. Laurent (métro Mont-Royal) -- Temporarily inaccessible!
Le Divan Orange, 4234 St. Laurent (métro Mont-Royal). Le Divan Orange is closing on March 18, 2018, Distroboto thanks them for more than 12 years of partnership!
La Salla Rossa, 4848 St. Laurent (métro Mont-Royal)-- Temporarily inaccessible!
Café Cagibi, 5490 St. Laurent (coin St. Viateur)-- NOTE: Cagibi has closed but Distroboto will be back later in 2018 in its new location!
Le Cheval Blanc, 809, Ontario E. (métro Berri)
In Quebec City:
Coopérative Méduse, 595 rue Saint-Vallier Est
In Dunham :
Brasserie Dunham
In FRANCE :
Fanzinothèque de Poitiers!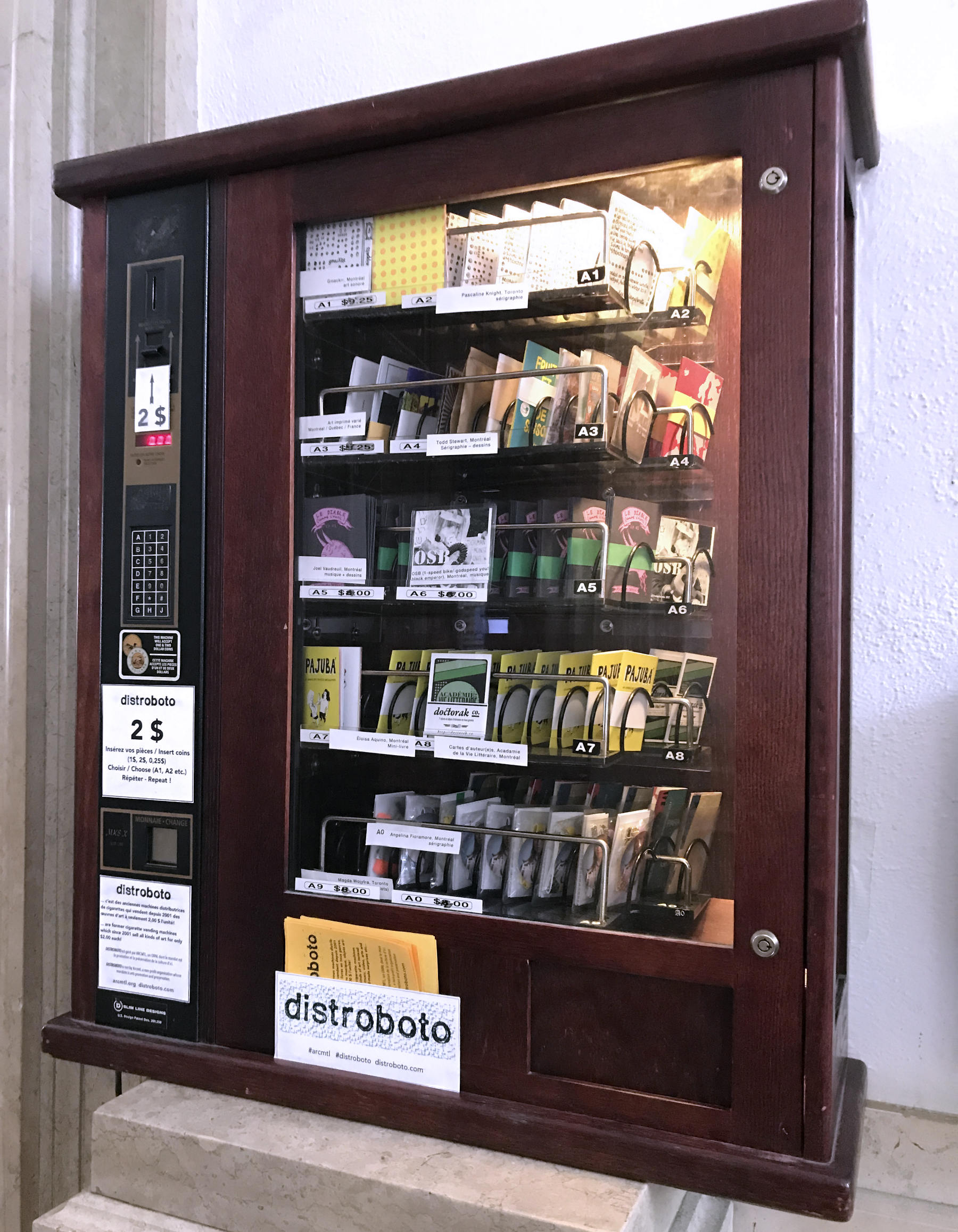 Distroboto!
DISTROBOTO Zine Workshop @ Artexte !
(invisibility) an AR zine-making workshop for QTBIPOC participants
August 15 2018, 12pm - 4pm, Artexte, 2 Ste-Catherine E. ste 301.
Distroboto is proud to partner with Pervers/cité for this unique zine-making workshop, facilitated by Jenny Lin (B&D Press). It's an introduction to zine-making in combination with augmented reality (AR) technology, exploring the subject of visibility / invisibility as experienced by QTBIPOC (Queer, Trans, Black, Indigenous, People of Colour) individuals and communities. Participants will be guided through the process of how to use a free AR app to create virtual viewing experiences combined with a physical, paper zine (for example, a photograph, collage, drawing or text on a page of a zine will activate a virtual layer of content that is viewable on a screen-based device such as a smartphone or tablet). For this workshop, we will be using HP Reveal, a free AR app that works for both Android and Apple phones and tablets.
The workshop will include hands-on instruction on zine-making including some examples of basic book-binding, a look at some works created by QTBIPOC zinesters, group discussion and production / creation time. By the end of the workshop, participants can choose whether they would like to include their workshop content in a collective QTBIPOC augmented reality zine made available in Distroboto machines in Montreal.
Please note that priority will be given to self-identified QTBIPOC participants. To RSVP please contact us at herculesface@hotmail.com and, if you wish, indicate whether you self-identify as QTBIPOC. See the Facebook event here.
This activity is made possible in part thanks to the financial support of the Canada Council for the Arts.
DISTROBOTO machines are former cigarette machines which no longer sell cigarettes, but instead, sell art in the form of miniature books, crafts, comics, music, film, animation and more, all for only $2.00 each! Any artist or creative person can submit work to sell through Distroboto (and you don't have to be from Montreal to take part!). For more information, including how to take part in the project, check out the FAQ, read about the project's mandate and history or contact us by email at distroboto@arcmtl.org.