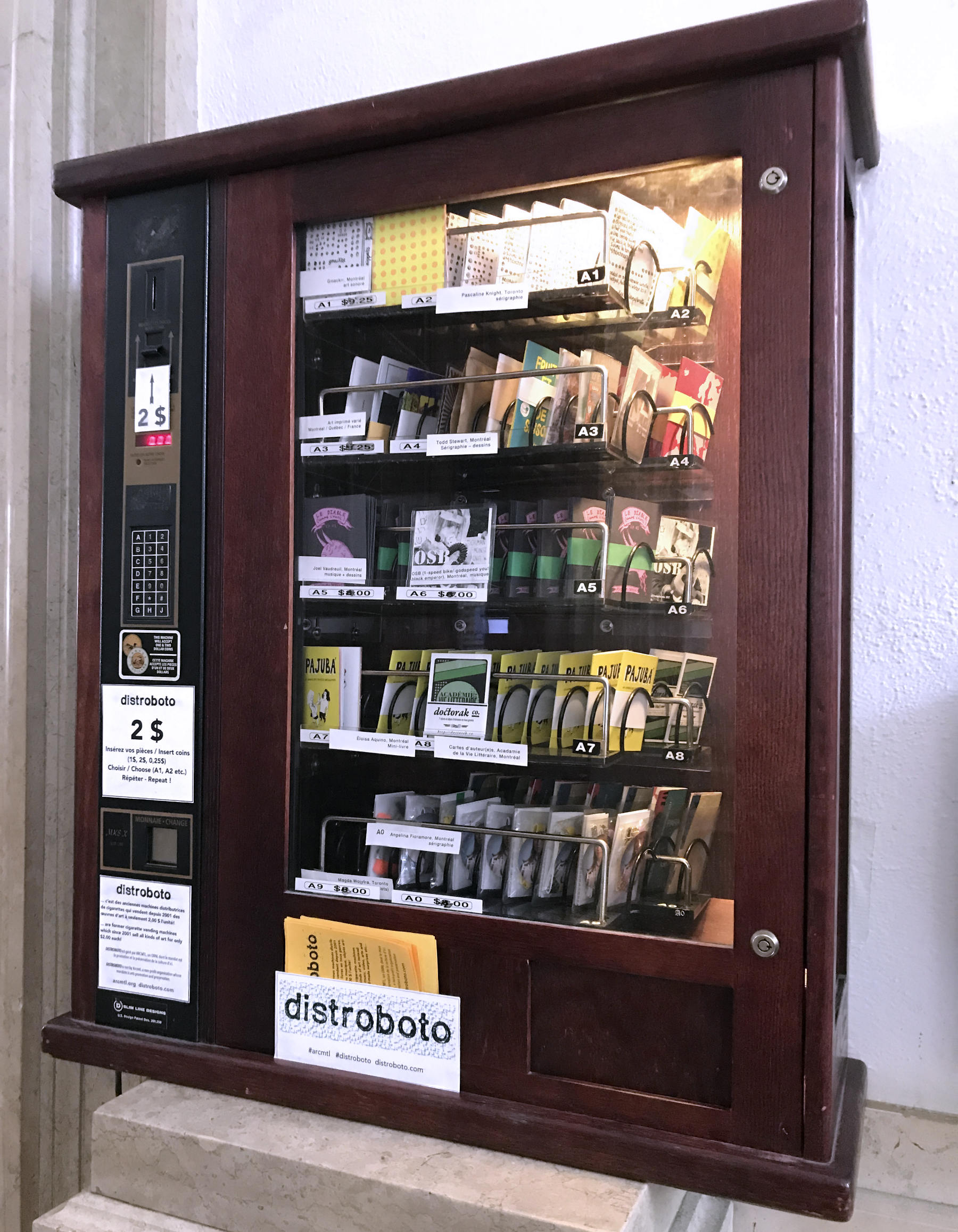 Distroboto!
New DISTROBOTO and Expozine 2018!
The 2018 Expozine Awards Gala will be held on Tuesday, November 20, 2018 at Vices & Versa, 6631 St-Laurent, with MC Krista Muir and the launch of one of our Distroboto machines! See the Facebook event here.
Expozine 2018 will take place on November 24 - 25, 1025 Bélanger (Église Saint-Arsène), Jean-Talon métro, accessible. 11 am - 6 pm. Free admission! Join the Facebook event here!
More than 300 publishers and self-publishing authors and artists from Montreal and elsewhere will be gathering this year in a new, larger space right next to the Jean-Talon metro station. Expozine is a super diverse and dynamic book fair that immerses its thousands of visitors each year deep in a thriving new culture of the printed page. Explore countless new novels, zines, magazines, essays, comics, graphic novels and art publications from across the continent and abroad. The list of participating publishers is available here.
To stay up to date with Expozine and its participants' launches and events, join the Facebook group. Questions? Contact us here.
DISTROBOTO machines are former cigarette machines which no longer sell cigarettes, but instead, sell art in the form of miniature books, crafts, comics, music, film, animation and more, all for only $2.00 each! Any artist or creative person can submit work to sell through Distroboto (and you don't have to be from Montreal to take part!). For more information, including how to take part in the project, check out the FAQ, read about the project's mandate and history or contact us by email at distroboto@arcmtl.org.