Visit one of our machines in person anytime!
Maison de la Culture/ Bibliothèque d'Ahuntsic
10 300, rue Lajeunesse (métro Sauvé)
Maison de la Culture/ Bibliotèque du Plateau Mont-Royal, 465, avenue du Mont-Royal Est (across from Métro Mont-Royal)
Maison de la Culture Frontenac, 2550 rue Ontario E.
Notre Dame des Quilles, 32 Beaubien E. (corner St-Laurent)
Casa del Popolo, 4873 St. Laurent (métro Mont-Royal)
Le Divan Orange, 4234 St. Laurent (métro Mont-Royal)
La Salla Rossa, 4848 St. Laurent (métro Mont-Royal)
Café Cagibi, 5490 St. Laurent (coin St. Viateur)
Le Cheval Blanc, 809, Ontario E. (métro Berri)
In Quebec City:
Coopérative Méduse, 595 rue Saint-Vallier Est
Cercle, 228 Saint-Joseph Est
In Dunham :
Brasserie Dunham
In FRANCE :
Fanzinothèque de Poitiers!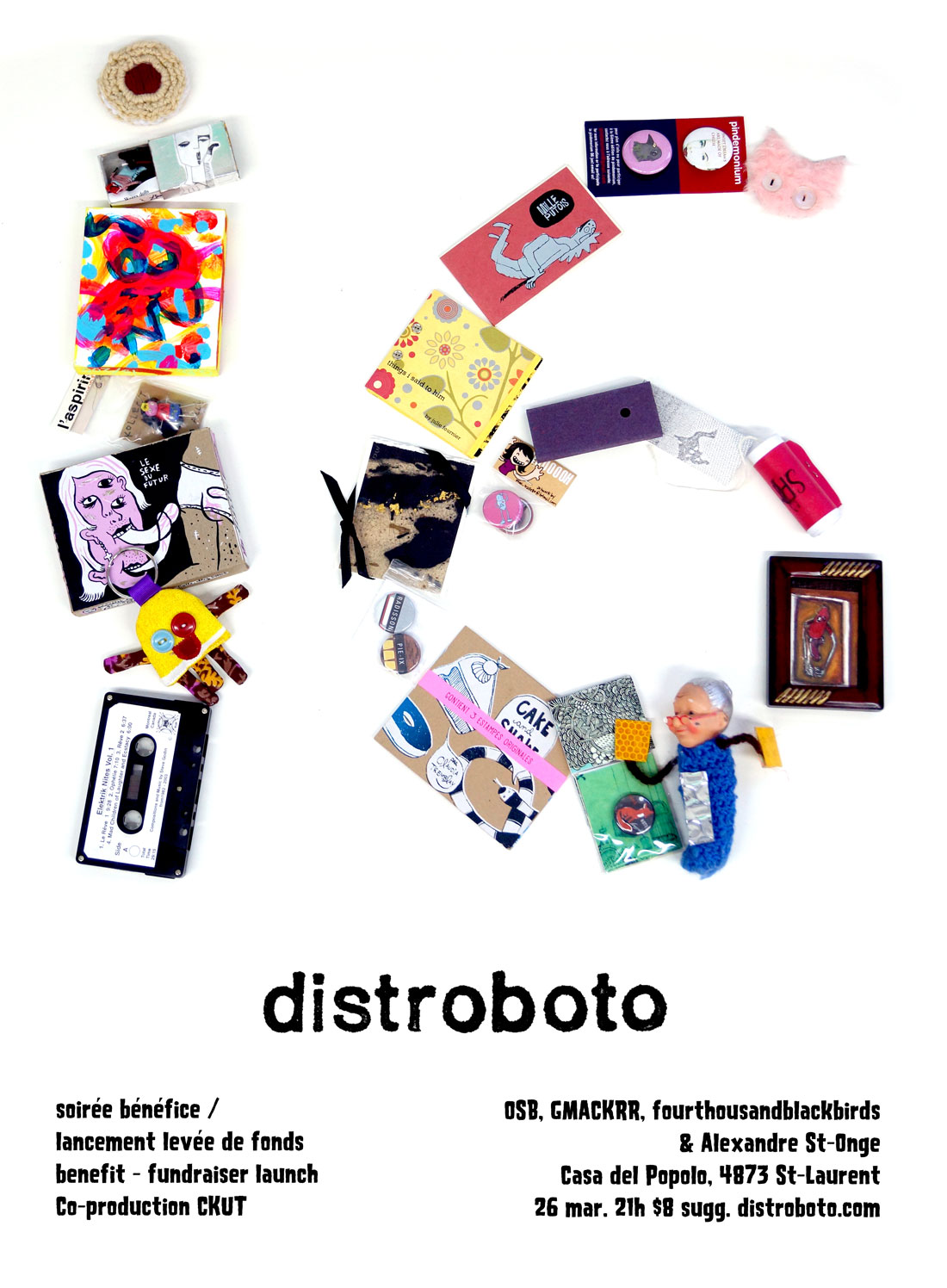 Distroboto!
DISTROBOTO Sweet Sixteen Party and Fundraiser launch!
Celebrating 16 years of Montreal's unique art vending machine network, with a party and concert where the project began back in winter 2001!
The evening will also launch a crowdfunding campaign to help this non-profit project stay alive and to upgrade the machines!
Sunday, March 26, 9 pm, Casa del Popolo, 4873 St-Laurent, with OSB, GMACKRR, fourthousandblackbirds & Alexandre St-Onge. $8 suggested donation. Click here for the Facebook event!
DISTROBOTO machines are former cigarette machines which no longer sell cigarettes, but instead, sell art in the form of miniature books, crafts, comics, music, film, animation and more, all for only $2.00 each! Any artist or creative person can submit work to sell through Distroboto (and you don't have to be from Montreal to take part!). For more information, including how to take part in the project, check out the FAQ, read about the project's mandate and history or contact us by email at distroboto@archivemontreal.org.